INSPECTION STICKERS ARE REQUIRED TO BE ON THE WINDSHIELD OF ALL TOWING UNITS APPROVED BY LAW ENFORCEMENT (lower drivers side)

WRECKER PERMITS WITH A PHOTO ID ARE ISSUED BY THE COUNTY LAW ENFORCEMENT WRECKER ADMINISTRATOR.. Wrecker permits are the property of Leon County Sheriff's Office. They are to be in clear site for you to see. Permits can and will be revoked if a holder fails to abide by all rules and regulations.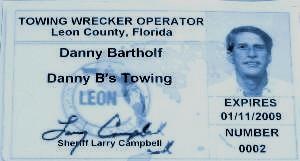 This permit is issued after a LCSO Wrecker application is completed, The packet includes: Background check on the driver, finger printing, proof of all mandatory insurances:For the wrecker, storage lot & on hook. All information reported to the LCSO Wrecker Administrator about the company or driver is put in this file.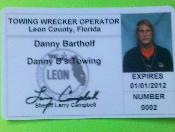 New Permits:
Not only is this for your safety, it's a pain when your report has the wrong company. You and the
insurance company waste time trying to find out WHO towed the car and where the right storage lot is located. This is another way unethical towers may end up with your vehicle.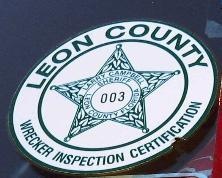 Wrecker Inspection Sticker: THE PICTURE ID WILL ALWAYS MATCH THE OPERATOR, COMPANY NAME SHOULD BE THE SAME AS ON THE TOW TRUCK.IF NOT LET THE LAW ENFORCEMENT ON SITE KNOW RIGHT AWAY.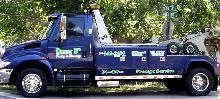 If you see him in your complex or hang out, he's there to HELP someone, he only tows by the request of the owner and law enforcement.